= arable (farm) land, cropland, infield: Land which can be used/ is used for growing crops with no or nearly no trees. Different kind of borders are characteristic of farmland, such as: hedges, ditches, boundary ridge, boulder walls etc. and aid in dividing farmland into uses.
Source: Definition elaborated by the Eucaland-Project for project purposes
Database entries for Farmland
The entries are still in process, the e-atlas is still under development
The Neolithic Revolution leading from nomadic to sedentary lifestyle has engendered an evolution from hunter-gatherer to sheep and cattle breeding, the cultivation of wheat and barley grains, on the territory of France around the 5th Century before JC. From this period on man works and plough the soil.
From the Revolution… [Read more]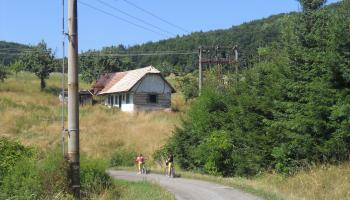 The entries are still in process, the e-atlas is still under development
It was developed during several phases of German and Wallachian colonisation Colonisers settled mountainous regions in Slovakia. Correspondingly with agricultural activities wood-processing industry, mining or charcoal burning were typically performed in colonised regions. The earliest were colonised regions situated in lower altitudes or those related to mining of wood-… [Read more]